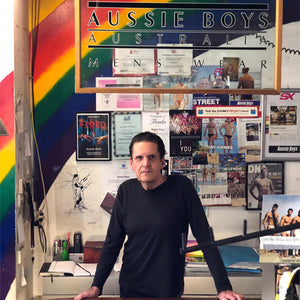 THE ORIGINAL AUSSIEBOY
For over 40 years, Ken Holmes has been part of the fabric of Sydney's LGBT community. With his store, Aussie Boys located in the heart of Oxford Street, Ken has been serving the community for decades. A seasoned retailer, Ken sources bespoke goods from leading suppliers to provide locals with the best range of underwear, swimwear as well as a collection of men's clothing and accessories.
The Aussie Boys store itself is located on Oxford Street in the bustling urban village of Darlinghurst. The store is a 2 level store combining swimwear, underwear, shoes, casual and now catering towards a more dressier market also. The store is a shoppers dream with something for everyone.
Aussie Boys has always been known for their fantastic window displays, always daring and eye-catching. These windows are at their most fabulously outrageous during the famed Mardi Gras period during Feb/March each year.
Oxford Street is well known for the annual Sydney Gay and Lesbian Mardi Gras. This parade brings excitement, joy and a sense of pride within the LGBTQ community and Aussie Boys is right in the heart of the action. The atmosphere during Mardi Gras is electric and there really is no better place to be than Aussie Boys come pre-parade time. Aussie Boys has been a major promoter and sponsor to variety of Mardi Gras events over the years that Mardi Gras has been in operation and Aussie Boys will continue to promote Tolerance, Pride and Equality for years to come.
The Logo Evolution
This Aussie Boys brand has have various incarnations and the new Aussie Boys logo was created to express a more modern look to the brand back in 2007. Once again the re-brand was easy and effective. The tagline 'Australia' was changed to 'Sydney' as after the Olympics, Sydney had become more globally recognised as Australia's major city. Naturally to have this highlighted within the logo was a smart business decision to create an association with the city and the store itself.
This logo was one of the original logos to be featured on the Aussie Boys apparel. This logo was seen globally and gained the company the recognition for creating top quality garments which embodied the 'Aussie' culture.
In collaboration with the City of Sydney.